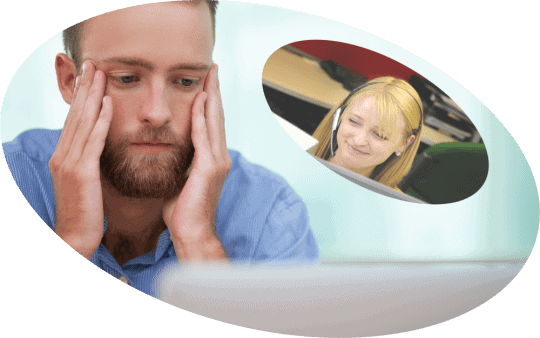 Perhaps a cultural remnant of wartime rationing and the austerity of the 1950s, it is said that Britons love to queue. However, the reality is quite different. No one likes waiting at the supermarket checkout or being put on hold by customer services. In fact, a survey by AT&T found the average caller will hang-up after being on hold for 1 minute and 55 seconds. In this article, we look at how Modern Networks UK Service Desk has continued to provide exemplary customer support during the lockdown while many offshore call-centres have struggled or closed down entirely.
Home working without the hassle
The chaos of recent weeks has seen many of us confined to working from home. Along with boisterous children and attention-seeking pets, confinement has meant tackling IT, broadband and telephone challenges. Video conferencing and working with online collaboration tools like Microsoft Teams have become the new normal. However, nothing is guaranteed to send your blood pressure skyrocketing faster than computer glitches and Internet connection problems.
Failure of offshore call-centres
Anyone who has tried to call their bank or any other service provider recently, will have been frustrated by the lack of help available. Recorded messages have replaced people. In many cases, the decision to move call-centres offshore to the cheapest providers now looks like a mistake. As countries around the world impose their own lockdowns, companies that outsource their customer services to India and the Philippines, for example, have experienced a lot of disruption, as a result.1 Virgin Media is just one telecoms firm forced to recruit 500 new call-centre staff in the UK due to the impact of Coronavirus on their offshore operations.2
No need to queue
At Modern Networks, our Service Desk is based here in the UK. We were well prepared to support our customers, from delivering new laptops to helping staff get setup to work from home. Similarly, we were able to move our Service Desk to remote working with zero disruption. Certainly, we experienced increased call volumes during the first weeks of the lockdown. Nevertheless, our dedicated team of service engineers coped admirably. They kept average call waiting times to just 1 minute and 20 seconds during peak periods of demand. Today, the average call waiting time is just 11 seconds. There is no queue. In April, 95% of all calls to the Service Desk were answered within 30 seconds or less. 70% of incidents logged by phone were dealt with immediately.
Email not recognised
We have noted some anomalous behaviour as a result of home working. Customers who choose to email the Service Desk rather than call; we would ask you to use your work email address, not your personal email. We don't hold your personal emails on our database and so this slows down our ability to respond to your query.
Making a difference
A recent survey suggests 60% of the UK's adult population are currently working from home during the Coronavirus lockdown3. This simply would not have been possible a decade ago. Technology has been a game-changer and lifesaver. The world after lockdown will be a very different place. We will probably all video conference more and travel for business less. Whatever the future holds, Modern Networks stands ready to continue supporting our customers going forward.
Sources:
https://www.reuters.com/article/us-health-coronavirus-india-outsourcing/indias-huge-outsourcing-industry-struggles-with-work-from-home-scenario-idUSKBN21C0LR