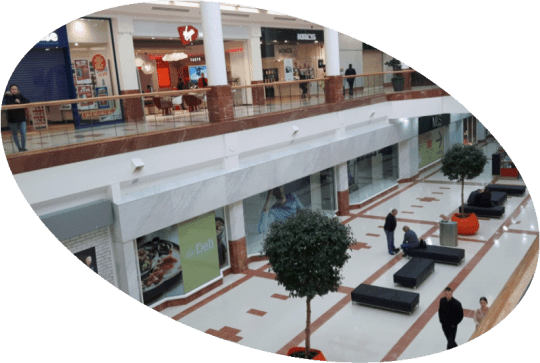 Anthony promptly delivered a Wi-Fi connection to one of the centre's meeting rooms that was critical for agency pitches for the scheme. Thanks Anthony!
Jonathan Day, Digital Marketing Coordinator, Merry Hill Shopping Centre
Merry Hill shopping centre is situated in Brierley Hill, West Midlands. Merry Hill has over 250 shops, a separate retail park, cinema, food hall and 9,000 parking spaces. The site occupies 1,671,000 square feet of retail space. Jonathan Day, Digital Marketing Coordinator at the centre contacted Modern Networks Service Desk with an urgent support request. Jonathan discovered there was no guest or shoppers Wi-Fi available in the main conference room the day before a series of important meetings. Anthony Fuller, Field Engineer, immediately started to investigate.
First, Anthony checked with the site to see if any work was being undertaken that might interfere with the shoppers Wi-Fi service. Contractors were working near the meeting room. However, this was not the source of the problem. Next, Anthony spoke with our Network Team to check the Wi-Fi was functioning. At the same time, he also asked Tech Services on site to make a physical check of the wireless access points. Once again, the checks indicated the Wi-Fi was working normally. Finally, Tech Services checked the availability of Wi-Fi in the meeting room. Having established that shopper Wi-Fi access was available in the meeting room, Anthony contacted Jonathan Day prior to his meetings and explained how the guests could connect to the service. Visit our Network as a Service page to learn more.