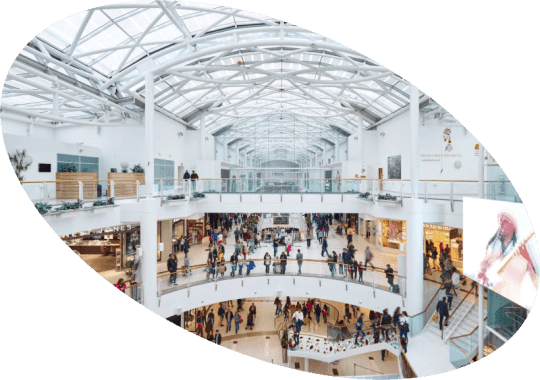 Nothing ever seems too much trouble for Rikki and he always does an excellent job, thanks.
Thomas (Tam) Davidson, CCTV Control Room Officer, Braehead Shopping Centre, Glasgow
Braehead Shopping Centre is situated on the banks of the River Clyde, Glasgow. The shopping centre occupies 1,059,970 square feet of retail and leisure floor space. The centre has 110 shops in the main covered mall. It has a further 10 large stores in the adjacent retail park. Modern Networks was asked to move one PC and setup another one to enable remote working.
Rikki Fulton, Senior Field Engineer, attended on-site. He setup one PC in the CCTV control room and the other for collection by Thomas (Tam) Davidson, CCTV Control Room Officer. Rikki setup Tam's docking station, user credentials, and synchronized all of his existing data. He also installed third party security, digital evidence management and access control software, and re-established a service connection. Once all tasks were completed and checked, Rikki emailed Tam to let him know that the laptop, docking station and power supply were ready for collection.
Computer leasing for commercial property
Computer leasing is an attractive option for many commercial properties. Firstly, computer leasing means no large upfront costs. Instead, our clients pay a predictable monthly fee, which makes budgeting easier. Our clients get the latest laptops or desktops, which we setup to their specifications. Additionally, we can move existing software and data from obsolete devices to the new ones.
IT support
One of the biggest benefits of computer leasing is 24/7 IT support by telephone, email and remote connection.* If, for some reason, a technical issue cannot be resolved by our UK Service Desk, Modern Networks provide a Next Business Day Device Replacement service. We also offer Accidental Damage Cover.
Security and lifecycle management
All our leased laptops and desktops are protected by Modern Networks anti-virus and web security.* Finally, when a leased device has reached the end of its useful life, we make sure it's wiped clean of data and the hardware is professionally recycled.
To learn more about computer leasing, contact us today.
* Anti-virus protection and IT support sold separately.