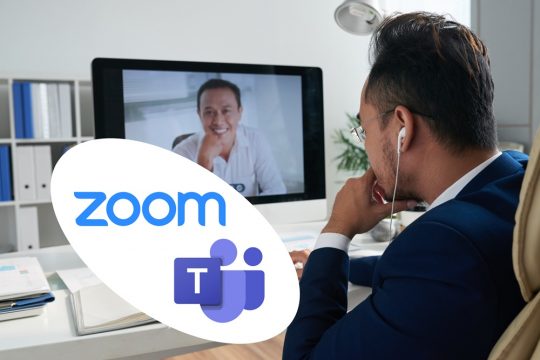 Today, working from home is the new normal. As a result, there has been a stampede for video conferencing software. Two of the most prominent and popular applications are Zoom and Microsoft Teams. However, they offer very different services and user experiences. In this article, we will look at how to decide which to use.
Zoom growing exponentially
One of the main tools we all need to work remotely is video conferencing software. Recently, the company Zoom Video Communications, Inc. has seen an extraordinary increase in demand. Research suggests Zoom added 2.2 million active monthly users by the end of February 2020. That's more new users than they acquired during the whole of 2019.1 By the end of March 2020, Zoom had hosted over 200 million meetings.2 Zoom comes with an impressive range of features and it's easy to use.
Zoom video conferencing
Zoom is ideal for meetings, presentations, webinars and online learning using high definition (HD) video. It allows you to setup meetings, integrating with Outlook or Google calendar. You can hold large-scale meetings of 100 participants and 10,000 attendees. You can record your video conferences and save them locally or in the Cloud. The Zoom app marketplace also lets you integrate with numerous third party applications. Zoom is available via your browser, a desktop client and mobile app. You can even use the Zoom bot to join meetings from inside Microsoft Teams. For additional features and functionality, simply upgrade your Zoom plan.
What about security?
Zoom has received some negative publicity about security recently. Certainly, a couple of security vulnerabilities were discovered, which have since been patched. Even the world's biggest software companies routinely find bugs and security vulnerabilities in their applications. That's why they continually issue security patches and upgrades. Unfortunately, cyber-criminals will always be looking for weaknesses to exploit.
Security features
Zoom is equipped with a range of privacy and security features. For example, Zoom enables a host to lock a meeting, requiring password access. You can prevent attendees from sharing screens. You can setup secure meetings with end-to-end encryption. If you choose to record the voice or video content of your meetings, Zoom provides secure Cloud storage. Zoom also only retains the most basic user information to ensure privacy. There is also a range of access controls that can be centrally setup and administered by your service provider.
For casual business meetings, presentations, webinars and online learning, Zoom is probably sufficient. However, you need to think carefully about the privacy and security of each video call you make, before you make it. That's why having clear privacy and security policies and the right IT safeguards in place is so important.
Microsoft Teams collaboration platform
Microsoft Teams currently has around 44+ million active daily users. Teams experienced a 40 percent increase in demand in just one week due to the pandemic.3 Teams is a unified communications and collaboration platform. Microsoft Teams is quite a different animal from Zoom.
Teams overview
Microsoft Teams comes as part of Office 365, which means it works with everything from Outlook, Word and Excel to SharePoint. Teams also integrates with numerous third party applications so you can customise it to meet your specific business needs. You can setup Channels for specific projects. You can share files, work on documents simultaneously, organise your Outlook calendar, make voice and video calls, schedule meetings and message colleagues. Teams enables you to work from anywhere, on any device.
Teams security, privacy and compliance
Microsoft Teams enforces team-wide and organization-wide multifactor authentication (MFA), single sign-on through Active Directory, and encryption of data in transit and at rest. Advanced Threat Protection (ATP) is also available. Whatever your industry or sector, Teams is designed to meet the latest compliance obligations.4
A great place to work together
Microsoft Teams is all about working together. It enables you to setup secure collaborative workspaces known as Channels for internal staff and external third parties. You can also setup private Channels. Anyone joining a Channel can see the full history of the project plus any shared documentation. You can also hold Chats, which are conversations among team members about various aspects of your project. Multiple Chats can take place simultaneously.
Naturally, you can make voice and video calls using Teams with up to 250 people attending a meeting or 10,000 attendees for a live event.5 Teams is great for medium and larger enterprises, where different departments from sales and marketing to human resources and finance setup their own Channels. You can also assign specific apps to each Channel. For example, sales and marketing might have CRM  and social media apps integrated within their Channel. For organisations already using the many benefits of Office 365, Teams is the perfect place to collaborate.
Right tools for the job
As we have seen, Zoom and Microsoft Teams are very different platforms. Zoom provides fast, reliable and easy to use video conferencing. It is also equipped with privacy and security features. Nevertheless, some caution and common sense should be used before sharing sensitive content. For many organisations, Microsoft is already the established provider and gold standard for office applications. If you want a platform that enables you to create collaborative workspaces for departments, projects and specific tasks then Microsoft Teams is the right choice. As we mentioned earlier, you can also integrate Zoom with Teams to get the best of both worlds.
To learn more about Zoom, Microsoft Teams, Office 365 or improving the security of your people working from home, contact us now.
Sources:
1. https://techcrunch.com/2020/03/20/psa-yes-you-can-join-a-zoom-meeting-in-the-browser/
2. https://www.computerweekly.com/news/252481051/Coronavirus-Is-Zoom-safe-and-should-security-teams-ban-it
3. https://www.theverge.com/2020/3/19/21186452/microsoft-teams-new-features-noise-supression-user-increase-coronavirus
4. https://docs.microsoft.com/en-us/microsoftteams/security-compliance-overview
5. https://docs.microsoft.com/en-us/MicrosoftTeams/teams-channels-overview