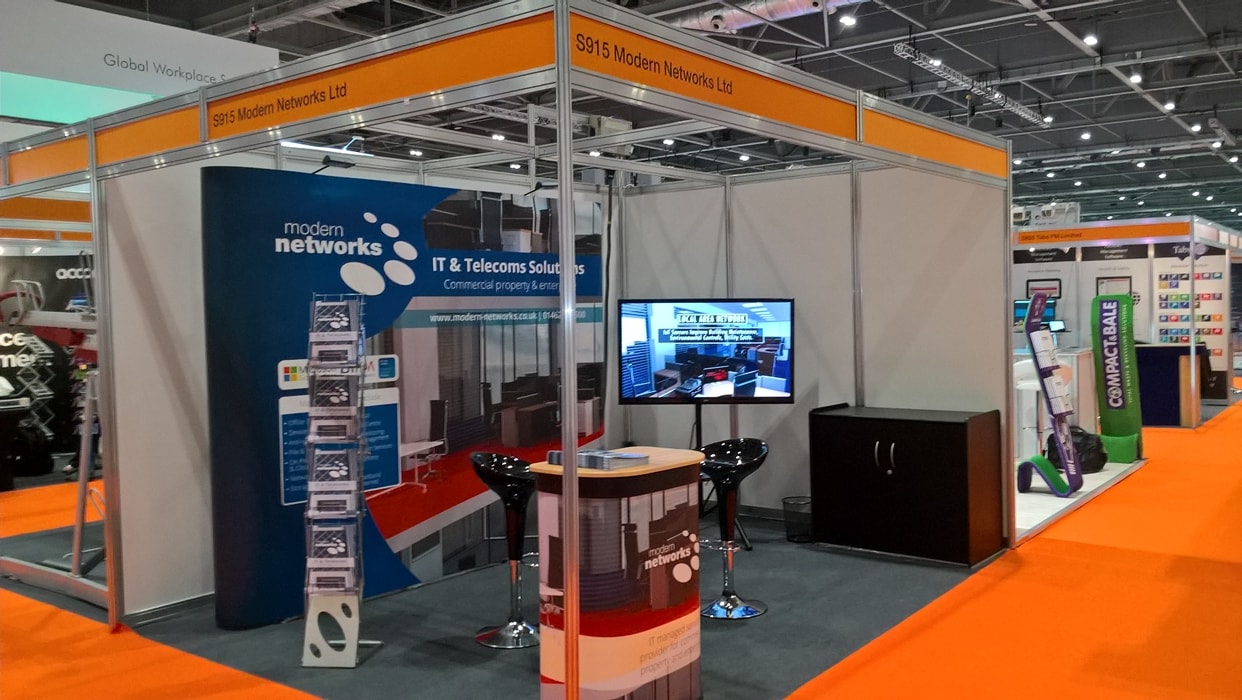 In association with the BIFM, the Facilities Show 2017 took place between June 20th and 22nd at ExCel London. Now in its fourth year, the show attracts FMs and suppliers from across the globe. With such a large captive audience of FMs, the Facilities Show 2017 was the natural choice for Modern Networks to showcase our expertise and unique position within the commercial property sector.
The Modern Networks theme for the show was "Making IT Work for You" and showed how technology is typically deployed within an office building and retail outlet such as shopping centre. Our plan was to simplify all our communications, leaving out the technical jargon wherever possible. Instead, we focused on what our services can do to help FMs do their day jobs, not how the technology works. Our stand design, new brochure and specially commissioned animation all worked together to tell the story of a typical IT deployment, taking a delegate from reception area to building manager's office.
As well as highlighting those fundamental IT and telecoms services we provide, such as email, desktop-as-a-service, enterprise anti-virus, IP telephony, business broadband, file storage and backup, we look at IoT (Internet of Things) and smart building technologies. Written in clear, straightforward language, our new brochure explains how technology can help shopping centres market themselves better, improve staff collaboration and tighten security.
Lastly, we look at the value of having all of a property's IT and telecoms under one provider for a fixed monthly fee, backed by continuous support and monitoring. This drives down costs, removes administrative complexity, improves service delivery, strengthens cyber and physical security, and ensures regulatory compliance, disaster recovery and business continuity.
Download a copy of our 'IT & Telecoms that Works for You' commercial property brochure now or give us a call.