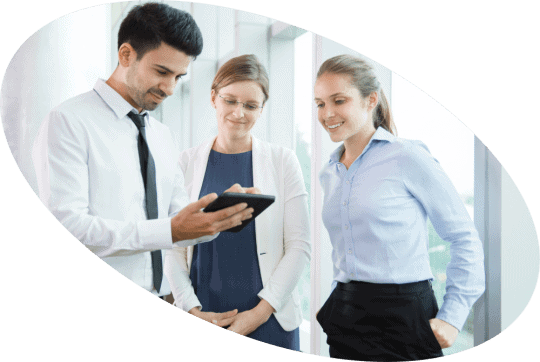 A Facilities Manager needs to be able to communicate, collaborate and access data instantly to make fast, informed decisions. Today, Microsoft 365 provides a range of mobile business applications, Cloud services and robust security features that can help a busy Facilities Manager tackle their challenging workload more effectively. In this article, we will discuss how a selection of Microsoft mobile apps can help facilities managers save valuable time and improve productivity.
Facilities management
Typically, a Facilities Manager is responsible for the maintenance, security, regulatory compliance, health and safety, and staffing of one or more buildings. In commercial property, facilities managers often have to work remotely, moving between locations. They will also have to deal with numerous contractors for cleaning, catering and car parking, for example. Additionally, it is the FM's job to manage the building's budget, write reports, oversee renovations, make repairs and deal with emergencies. So, how can Microsoft mobile apps help facilities managers save time and improve productivity?
Outlook mobile app – manage your emails and your calendar
Facilities managers spend a lot of time checking email, responding to text messages and managing a hectic schedule. Microsoft Outlook is one of the world's most popular business email clients. Outlook mobile connects you with your organisation across email, search and calendar. Outlook mobile integrates with all your favourite Office apps, many third party business apps, your files and teams to ensure you always have the right information and contacts at your fingertips. The integrated calendar enables you to plan meetings, set alerts, share and update your availability with colleagues in real-time. The Focused Inbox feature uses AI technology to learn what is most important to you and prioritise your messages accordingly.
Checkout a series of video tutorials that explain the many features of Outlook mobile.
Microsoft Office on your mobile
As a Facilities Manager working in commercial property, communications, collaboration and reporting are extremely important and often time-sensitive. Microsoft Office mobile brings together Word, Excel, PowerPoint and OneNote into one handy, supercharged application. You can see all the documents you have been working on chronologically, the most recent first. Easily share files using Outlook or collaborate with colleagues on Teams from within the app. Create new documents from scratch or by scanning text, charts and images using your smartphone's camera.
The Office mobile app converts images into editable Word documents or Excel worksheets. You can also sign and save different file formats as PDF documents. Useful for keeping notes and creating reports on the go, the app has a Word dictation mode, which lets you to turn your voice into written text. Every time you edit a file, the change is saved to SharePoint and securely backed up to OneDrive in the Cloud.
SharePoint – secure document management
Microsoft SharePoint is a sophisticated browser-based collaboration and document management platform. SharePoint provides a secure place to store, organise, share and access information from any device. You can manage projects, automate workflows and integrate with many Microsoft and third party apps for HR, finance and building management, for example. The SharePoint mobile app enables you to stay connected to your people, partners, contractors, project teams, files and anything else that is important to you.
Teams – collaborate and communicate from anywhere, on any device
Microsoft Teams is a chat-based collaboration platform complete with document sharing, online meetings, and many other useful features for business communications. As a result of the global pandemic and subsequent lockdown, Teams has become synonymous with video conferencing. However, Teams is really an advanced digital workspace, where people can come together to discuss, plan, share and get things done. Teams enables you to create multiple work channels for different departments, groups and projects. As well as persistent chat, audio and video conferencing, Teams can enhance or replace your existing telephone system.
The Teams mobile app lets you keep on top of on-going projects and activities. You can see the latest conversation threads, and where you have been mentioned by name. If you are involved in multiple projects, you can filter activity to save you time and help keep you focused. You can browse existing teams, create new teams and channels, and invite new team members all from within the mobile app. Within each channel, you can see all conversations past and present, all files related to your projects and any other apps or content. You also have access to your calendar within Teams mobile, so you can check your availability, set appointments and join meetings using voice and video conferencing. Just about anything you can do with Teams on your desktop is also possible with the mobile app.
Planner – project management made easy
Facilities managers have to be able to organise, plan, prioritise and multi-task. As we have seen, Microsoft Teams and SharePoint provide a dizzying array of useful collaboration and communication tools. However, you can go further. Microsoft Planner is a lightweight project and task management tool that neatly integrates with Teams. Using Planner, you can create new project plans, create and assign tasks, set priorities, add due dates and monitor the progress of activities. You can breakdown tasks into checklists of items, add attachments such as building schematics, and leave comments. You can export project plans to Excel worksheets and produce basic reports.
The Planner mobile app lets you see all your current projects and allows you to create new ones. You can see all the tasks assigned to you, arranged by progress, completion or due date. Within each task card, you can update the status, add multiple attachments such as photos and video, and write comments. The handy charts view lets you see at a glance what tasks have been completed and what remains to be done.
Visit our Help pages to learn more about Microsoft Teams and Planner for project management.
Power Automate – stop wasting time on mundane, manual, repetitive tasks
As a Facilities Manager, your time is extremely precious and always limited. Although every day presents new and often unexpected challenges, facilities managers also have to deal with many mundane and time-consuming repetitive tasks. Microsoft Power Automate enables you to automate many of those laborious, inefficient and manual tasks. Microsoft provides thousands of pre-built templates to get you started. Power Automate connects to hundreds of native and third party apps such Outlook, Excel, DocuSign, Eventbrite and SAP. Power Automate can automate numerous administrative tasks such as collecting staff time-sheet data, sending budget authorisation requests and scheduling building maintenance checks. Save time and focus on what is important with automated workflows from Microsoft.
Power BI – make better-informed decisions
Today, building sensors collect enormous amounts of data about everything from available parking spaces and room occupancy to HVAC (heating, ventilation, air conditioning) systems. Microsoft Power BI enables you to collect, analyse, present and share data from multiple sources such as building management, asset management and housekeeping systems. You can customise every aspect of Power BI allowing you to present financial data, performance metrics or energy cost-savings as stunning dashboards and reports. Monitor every aspect of your office building, warehouse or shopping centre while on the go with the Power BI mobile app. Make better informed decisions about every aspect of property management based on clear, real-time data.
Security matters – defence in-depth
During the early months of the Coronavirus pandemic, we have seen a significant increase in cyber-crime, especially phishing emails targeting remote workers. Microsoft 365 helps defend against cyber-threats like phishing attacks, ransomware and malware to safeguard your business data. Advanced Threat Protection (ATP) scans emails for suspicious links and attachments, protects against impersonation and spoofing, and checks that all files in SharePoint, Teams and OneDrive are safe to access. Data Loss Prevention (DLP) stops emails and documents being forwarded, viewed, edited or printed by anyone outside the organisation's network.
Microsoft InTune, which is available with Microsoft 365 Premium, allows you to manage access to company owned mobile devices and data using Mobile Device Management (MDM). Alternatively, you can securely manage mobile apps, email and data on personal devices with Mobile Application Management (MAM). Microsoft 365 offers multiple layers of security from strict access controls to sophisticated device, application and data defences.
Mobile apps help facilities managers work smarter, not harder
The job of a Facilities Manager working in commercial property is always going to be varied, complex and demanding. Microsoft 365 brings together a wide range of mobile apps, Cloud services and robust security features in one unified experience, which is accessible from anywhere, on any device. Microsoft 365 mobile apps can help facilities managers work smarter, not harder, saving valuable time to focus on priority tasks.
Contact Modern Networks
As a leading provider of tech support and IT managed services to commercial properties across the UK, Modern Networks has the unique knowledge and expertise necessary to help property management firms and facilities managers get the most from Microsoft business applications.